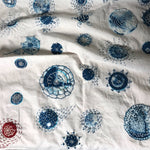 This past month I've picked up a new activity thanks to Botanical Colors and Heidi from Honey Folk Clothing. They are hosting a monthly stitch in over Zoom where Heidi shows a new stitch and we all stitch along doing whatever inspires us. There were over 500 people last month from all over the world. (Sign ups are on Botanical Colors website  www.botanicalcolors.com the next one is tomorrow morning)
For my stitch journal I am working on an organic cotton napkin from Maiwa and using hand dyed fabrics and threads I have naturally dyed. Each day I spend a few minutes stitching a circle. Each month is a new napkin and to follow along with my dye journey, new colors will be introduced as I dye them up. 
This process has been amazing for me this month as we've worked thru some challenges it's given me a space to be creative and lose myself in stitching. I've never been good at meditating as I can't sit still so knitting is usually my go to but this new craft is very relaxing and meditative.
Do you meditate?
Have you tried slow stitching/stitch meditation?
-Jamie