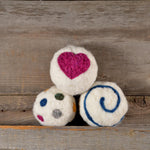 With spring slowly making an appearance, I was thinking it's a good time to formally introduce our line of Zero Waste kits. 
We have put together 4 different kits to help with laundry, visibly mend and get a good scrub with felted soap. These are all great for beginners, no experience needed.
Our first kit is a great introduction to needle felting while creating a set of your own dryer balls. In this kit you will learn the basics of needle felting by creating the balls and adding decorations also. You get enough wool for three small dryer balls, plus a foam pad to work on, a stencil and 4 felting needles. 

Next up is our Wool Aid Kit where you will learn to visibly mend through needle felting. Felt cute designs over holes and stains in sweaters, blankets and more! So much fun and gives a second life to your clothing. The colors in this photo is from a collab we did with Simply Merino, you can find this color way on their website or check out our kit for the colors in ours on our website.
Looking for a Natural Exfoliate, look no further than felted soap. It works as a natural exfoliate but it also keeps your soap longer as it doesn't melt everywhere. It's a fave in our house.
And then if you want to do all three projects we've created the Zero Waste Starter Kit where you get everything to create all three projects!
Check out all four kits on our website https://thegeneralbean.com/collections/kits