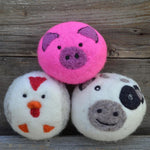 We have three new sets of dryer balls for the spring! 
Introducing our Barnyard Buddies. We have had lots of requests over the past year for pigs and cows so we put together a little set to incorporate those along with the cutest little chicken.
Next up is our Bed of Sloths. Over the years we have had many requests for sloths, so finally here we go with a set of three.
Even though sloths are a solitary animal the females occasionally hang out in groups. Due to their laziness a group of Sloths is called a Bed of Sloths.
Last but not least for our friends who love our colourful dryer balls, we have a new color Blurple. We had fun naming this one by putting it out to our Facebook Followers. We had many amazing names suggested but we felt Blurple was the perfect name. What do you think?
You can find both of the patterned sets under Patterned Dryer balls in our shop and Blurple is listed under Variegated Dryer Balls