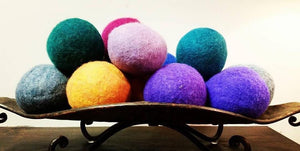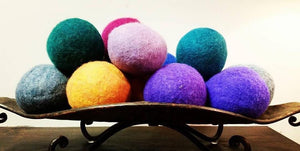 On Sale
Plain Dryer Ball Lots- Save on lots of 100 or more!
Want an easy way to order, let us pick the colors for you, just choose amount.  We will send a mix of plain, heathered and naturals.
Save money by buying in bulk. Purchase 100 or more and save .50 a ball.
Dryer balls are packed loose/bulk. If you would like bags please order seperatley. 

Our solid wool dryer balls are handcrafted from Canadian wool in Calgary Alberta. They come in a variety of Colors and the color will not run onto your clothing. Make it easy to find them by choosing bright colors or colors you may not generally wear.

-Dryer balls reduce drying time by up to 30% or more
-They are made from sturdy Canadian wool making them last for 1,000 uses or more
- wool dryer balls naturally soften your clothing
-dryer balls help to reduce static in natural fibre clothing
*color may appear slightly different in person due to color lots and computer screens, lighting etc.