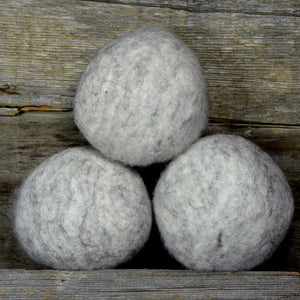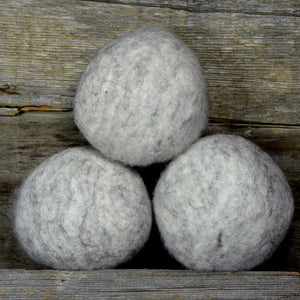 On Sale
Natural Dryer Balls, Undyed Wool
Looking for Natural, no dye, wool dryer balls? Look no further!
These four color choices all have no dyes, they are the natural colors of the sheep- or a blend thereof. These dryerballs are handcrafted in our Alberta studio in the wonderful city of Calgary and our wool is sourced locally.

- Our dryer balls last as they are made from hearty, sturdy, Canadian wool.. so they last and last and last!
- Wool dryerballs reduce drying time by up to 30% or more
- Dryer balls will help to reduce static cling in natural fibre clothing.
- As if that weren't enough..  they naturally soften your clothing as well.
* each set comes with three dryer balls in a cotton bag, please select your natural color
*color may appear slightly different in person due to color lots and computer screens, lighting etc.