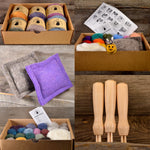 This month Mike and I have been working on getting all of our felting supplies ready for sale and wholesale. This is something we've been wanting to do for years but haven't had the time. Now with Covid and cancelled shows we have a bit of time to dedicate to this. So watch for more kits coming over the summer (let us know if you want something specific) 
 We are very excited about our new wool pads. These are sooo much nicer than foam pads which tend to leave bits of foam in your project. The wool ones don't let off any bits and are lovely to work on. They are also Canadian wool both the wool pads and the inner stuffing. We are sewing these here in our Calgary studio and will have a few colors available soon. 
We've also put together fibre bundles, a few different color packs and made labels for our 25 gram fibre so they will be available to retail shops shortly. 

Watch for more needle options, holders and kits coming throughout the summer. As well as tutorials. We will also be offering Zoom classes this fall, both open to everyone and options to book your own Zoom Party.
Lot's of exciting things to look forward to, make sure to follow us on Social Media for updates.